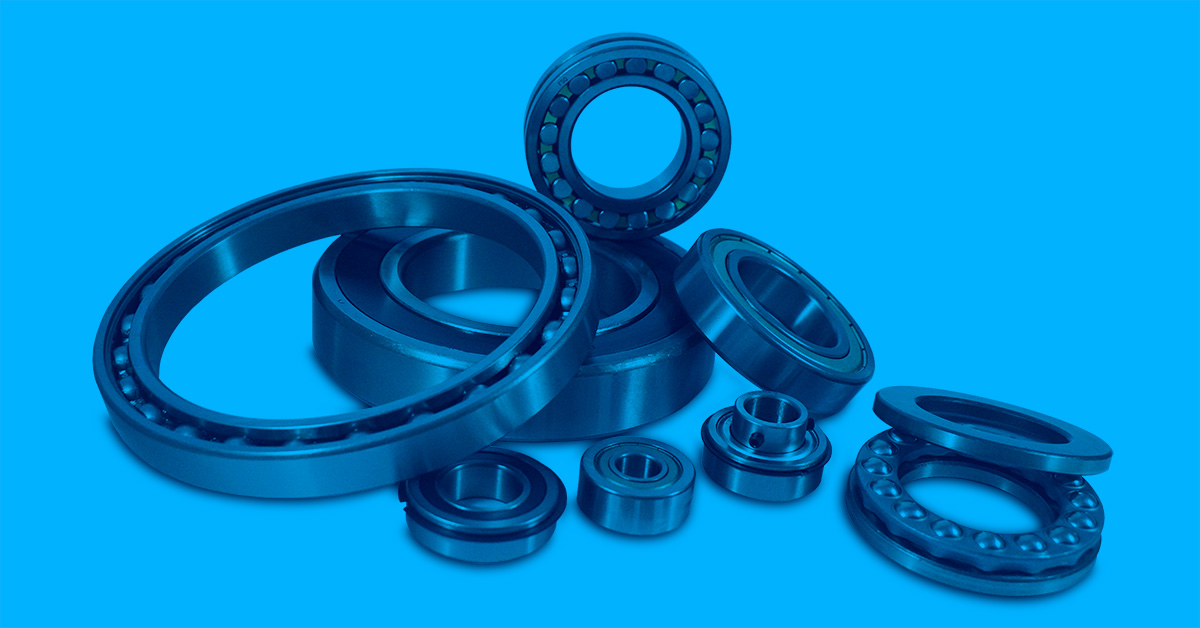 Essentially, the bearing is the member interposed between the housing and the shaft of the rotating mechanical system, intended to substitute rolling friction for sliding friction. Ball bearings are the most common type of bearing used in an industrial environment.
1. Rigid ball bearings
They can permit a very minimal misalignment but tolerate only moderate axial loads. A ball bearing is composed of two rings between which balls are placed, slightly lubricated, and kept spaced by a cage. Contrary to popular belief, the main purpose of lubrication is not to reduce the friction between the balls and the rings but to prevent seizing of the various elements. Moreover, an excess of lubricant makes the movement more difficult and causes a overheating which is detrimental to the life of the bearing.
2. Angular contact ball bearings
For this type of bearing, the contact between the ball and the paths is made along an inclined axis relative to the normal plane of the axis of rotation of the shaft. This oblique contact makes it possible to undergo significant axial forces but in one direction only; they are mounted in pairs, in opposition, for applications where axial loads in both directions are present. They can only accept a slight misalignment; therefore require great care in terms of machining and adjustment (alignment).
Double row angular contact bearings, which accept large axial loads in both directions, can be used alone, for example for a short shaft. They accept no misalignment.
3. Spherical ball bearings
Consisting of two rows of balls, a spherical raceway in the outer ring and two paths in the inner race, spherical ball bearings are recommended when shaft alignment are difficult. These bearings accept a significant misalignment up to 2 to 4⁰.
Spherical ball bearings are the bearings that generate the least amount of friction, resulting in excellent performance even at high speeds. Thanks to this absence of friction, these ball bearings have a very long service life and require very little maintenance. Spherical roller bearings are also very effective in reducing noise level.
4. Hybrid ceramic ball bearings
Ceramic balls are lighter than steel balls and as a result the hybrid ceramic ball bearing can rotate up to 40% faster than a traditional bearing. Because it rotates faster, less force is exerted on the balls significantly reducing friction resistance. The name "hybrid" comes from the fact that the inner and outer rings are made of 440C stainless steel.
Hybrid ball bearings are different from other ball bearings in that they do not conduct electricity because of their composition. These are therefore models that are prioritized for applications that generate electrical currents such as electric motors.